You're wanted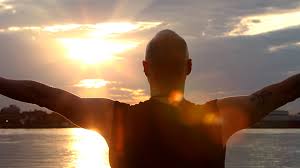 "Do you think the Scriptures have no meaning?  They say that GOD is passionate that the SPIRIT HE has placed within us should be faithful to HIM." (James 4:5 NLT)
Ever face heartbreak?  Ever have someone in whom you placed your heart, your trust, and a sense of your identity just break up and move on without you. Or maybe you saw them flirting with another the way they used to flirt with you.  If you've been torn apart inside with no words to accurately articulate the pain, this verse indicates you have an inclination of GOD's passion for you.
GOD came to us, as JESUS CHRIST, to restore our relationship with HIM as our FATHER.  And when we place our trust in HIM, GOD places HIS SPIRIT inside of us.  HE is so close to us…this intimacy is beyond description.  Paul describes this intimate relationship between HIS SPIRIT in us and our FATHER, so tightly knit that when we run out of words to describe our heartaches, HIS SPIRIT groans for us.  And our FATHER, who knows everything about us, understands these groanings.  This is closer than any relationship we share.
In this verse in James, we are reminded that GOD guards this relationship with a jealous passion.  HE made us to be in this close contact with HIM.  When we seek satisfaction in other places, it grieves HIS SPIRIT in us and it grieves HIM.
Consider The ONE who spoke the world to be, from nothing to something.  Not just something, but something else.  In fact, we're still discovering all of the beauty and complexity of HIS Creation.  Yet, HIS crowning masterpiece is you.  HE desires an intimate relationship with YOU.  The way you felt when the one you loved looked another way is how HE feels when you and I turn away to things of the world.
Just this past week, as I read this verse, it occurred to me in a more profound way…this is why CHRIST came.  Sure, I know it and I've got a hunch you do, too.  But, it hit me that my preoccupation with other things grieves my Savior; this truth penetrated my heart in a new way.  I'm thankful to know HE wants me…time with me. Realizing HE saved me so HE can be with me compelled me to stop my rushing around, sit on a bench without an agenda, and be with my Creator.
I urge you to take 15 – 20 minutes to consider you're loved with a passionate love like this.  Wait on HIM, listen, reflect, be quiet and just be with JESUS.
"But the mistake of thy life consists in this, that HE hath not thee.  Some part of thy heart is given, but not all; and this causes HIM the most intense pain, resembling that which we suffer in jealousy…The person of JESUS CHRIST must be the Sun of our system, though that system may include many planets beside." - F. B. Meyer on James 4:5