Church Every Day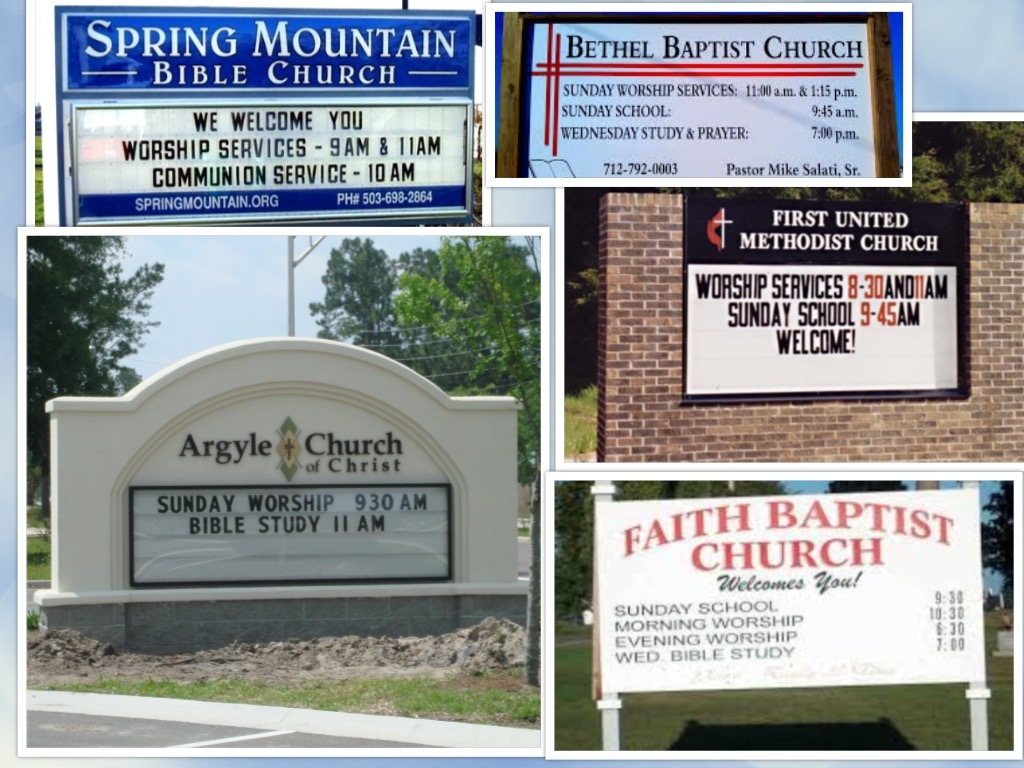 This week, one of my good friends shared a desire of his with me. He had considered this idea over time. Over years of road trips, seeing all types of churches in town after town, he always wondered why their signs only invite people to join them on Sunday morning. Why not every day? We leave church reminded of GOD's love for us and HIS plan for our lives; we're uplifted, ready to take on the trials and challenges of the world. As a pastor of a church that meets in a school and has to be set up every Sunday, my immediate reaction was one time a week is enough! Upon reflection, though, we talked about a more accurate view of church. We have been conditioned to consider church as a place, and the activity confined to four walls. Even if we attend a portable church, when we say church, the first thought is the structure. The Church is bigger. It's way better. We, believers in JESUS, are The Church. Through us, JESUS is capable of meeting every need. In fact, HE answers prayers and works in the lives of others through HIS Church.
"And HE put all things in subjection under HIS feet, and gave HIM as head over all things to The Church, which is HIS body, the fullness of HIM, who fills all in all." (Ephesians 1:22-23)
We are not confined to walls, or even a campus. The definition of church in the original language is of an assembly of Christians for religious purpose; but it is also defined as the whole body of Christians scattered throughout the earth. Even with all of her imperfections, The Church has been formed by GOD to reach every single heart with the Good News of HIS redemptive love. HE answers prayers, meets needs, and cares for the least of these as we love and serve those we come across each day.
So, let's reconsider my friend's request. Yes, we should meet everyday. We do. Every time two or three of us gather, we need to remember, we are the body of CHRIST, gathered for more noble purposes than we often realize. We're able to meet one another's needs with the help of HIS HOLY SPIRIT in us. May coffee shops, football stands, beaches, parks, living rooms, restaurants and every other possible meeting place where the Bride of CHRIST gathers become holy ground. My friend was right to say we need Church every day.
Are you facing temptation, persecution, trouble, fear, worry, dread or some other trial? Then invite CHRIST in the next time you gather with one or two. HE has promised to be there and where HE is, there is freedom, peace, joy and hope. In the face of all opposition from the enemy we are told we will overcome by the blood of the Lamb (what has been done for us) and the word of our testimony (what we do together).
If you're like me, it's easy to sit and talk with close friends about meaningless things. There is an opportunity for more! You and I need it, and our friends do, too. I urge you to take your next meeting or conversation to a place where JESUS accomplishes HIS intentions. It often only requires us to acknowledge HIS Presence together.